A guest sermon I offered this weekend at First Christian Church – Disciples of Christ in Eugene, Oregon.
"Friendship, War, Memory, and Community: Memorial Day Weekend 2016"
Good morning and thank you so much for offering me the honor of sharing some thoughts with you today, on this Sunday of Memorial Day weekend. Though I have not served in our military, many of my family members have been soldiers, both here in the US and in other parts of the world where they've lived. My grandfather was a US Army infantryman in France during World War I. My father served during the Korean War, though he was never shipped overseas.
My mother's family are Moroccan Jews who now mostly live in Israel. During World War II, my mom's family lived in Casablanca, which was under German occupation. During the 1940s France had ruled Morocco as a colony, but the Nazis took it over not long after Paris fell. My maternal grandmother's sister, Rosette, joined the French underground, and nobody knew much about what she did. She was gone for weeks at a time and then would suddenly show up for a few days. One time she showed up late at night at the home of one of her sisters with a small group of men. Her terrified sister let them in and, in later years, all she could say about the visit was that the men brought a whole bunch of weapons into the house, hid them in a back room, and Rosette told her to just say nothing and people would come by soon to get them.
Then there are my many, many aunts and uncles and cousins who have served and currently serve in the Israeli army. My mother's brother, my Uncle Yossi, was the sole survivor of his army unit during the 1973 Yom Kippur War. Anwar Sadat had launched a very effective surprise attack and the army was scrambling to call up reservists. When Yossi's unit's call-up notice went out over the radio, he went to get his boots from their usual place, but couldn't find them. Turned out his mother had been tidying and had moved them. By the time he found them and hustled to the base, his tank unit had already been sent to the front. The commanding officer placed him with a different departing unit. As it happened, all of the others in his intended unit were killed in an explosion. The misplaced boots saved his life.
Yossi is an interesting case in point. In addition to the trauma and survivor's guilt he's had to bear over that pair of boots, he also has told my mom about terrible recurring memories and dreams from his experience in combat. In particular, he is haunted by a flash moment in which he and an Egyptian soldier were suddenly face to face, a few meters apart. The two men shared a moment of horrified shock and recognition, and then both moved to fire. Yossi fired first, but for years struggled to cope with the image of the Egyptian young man's body.
On this weekend when we contemplate those of our fellow Americans who have fallen in battle, we are drawn to personal memories of war, memories that become family stories that get passed through the generations. A lot of those stories give us insight into the meaning of friendship. In the Book of Proverbs, we find these words: "There are friends we have who cause us great harm, but there's also the kind of friend who sticks by you even more than a brother."[1] And in Ecclesiastes, also on the theme of friendship, we read, "Two are better than one, because they have a good return for their toils: If either of them falls down, one can help the other up. But pity the person who falls and has no one to help them up."[2]
I'd like to consider these two short, simple biblical passages in light of the themes that Memorial Day weekend evokes – themes of war, friendship, memory, and community. Some of what I have to share comes from people whose experiences with war have left them passionately opposed to war in all or most of its forms, and in sharing those thoughts I want to be clear that I honor in the deepest way the sacrifices of our fallen soldiers and the pain and loss of their families. We need to be able, in a house of God, to attempt to look at war through lenses of honesty and concern for the divine image that is present in every human being, though we also need to stand in solidarity and true friendship with all who are serving or have served, and with all who have given their lives for us in times of war. We need to do both, and doing both with sensitivity and candor honors the dead and the truth alike.
I'd like to start with the words of Vera Brittain. She served as an English army nurse during
World War I, and wrote one of the most widely read memoirs of the war, Testament of Youth. In it she describes her years as a female student at Oxford – at a time when few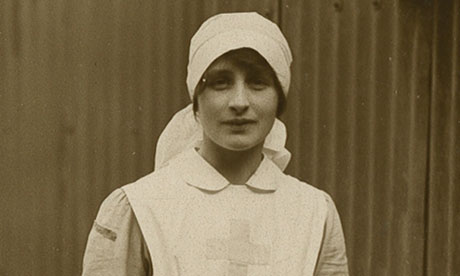 women went to university – and the beginnings of her romance with a brilliant fellow student named Roland. She includes many of the letters the two lovers sent one another after Roland quit school to enlist. Roland's early letters describe his enthusiasm for getting into battle, and his later letters from the battlefield become increasingly disillusioned and numb. Of course, like so many European young men of that generation, Roland never made it home.
Continue reading ""Friendship, War, Memory, and Community: Memorial Day Weekend 2016"" →